PPC Campaigns are 'Pay Per Click' campaigns meaning in short that they pay out only when someone clicks on them. If you run a website, then this represents a great opportunity to bring traffic to your site – and the good news is that if no one clicks on the ads to get to your site, then you don't have to pay anything. Here we will look in more detail at the benefits of such a scheme for advertisers.
You Only Pay for Visitors
With another form of advertising – say magazine advertising or advertising on the radio – you can potentially risk having thousands of viewers or listeners but not having anyone actually go to your website. With PPC you only pay when someone actually does click on your advert – so an unsuccessful campaign costs you nothing.
The Traffic is Targeted
When you use PPC your advert will be placed on sites that are in your niche or that are relevant to your subject matter. This means in other words that you won't have lots of people visiting your site who aren't at all interested in your subject.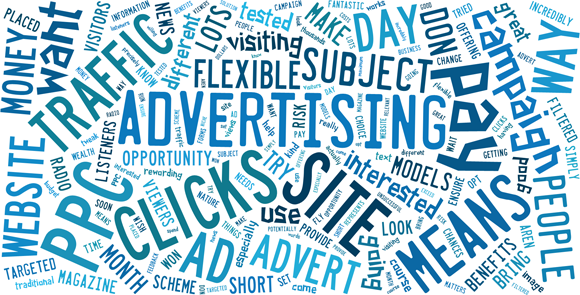 The Traffic is Filtered
Of course you only want people to visit your site who are not only interested in your subject, but also willing to part with some money and to make you more money than you are going to spend – especially you're paying for this traffic. The solution then is to simply provide more detail in your advert, and this way people will know precisely what you are offering before they come to your website.
You Can Budget Precisely
With PPC you can set a maximum amount you want to pay each day or each month and ensure this way that you don't exceed your budget. And this amount is incredibly flexible too meaning that you can opt to pay more than ten dollars a day if your sheepish and just want to try it out, or can pay thousands a day if your business model is tried and tested and you want to make a lot of money.
It's Flexible in Other Ways Too
At the same time PPC is flexible in other ways too. It can be an image, or it can be just text. Meanwhile there are so many different ad networks you can use that you can have it on almost any kind of site. Chances are that whatever your needs, PPC can help you.
It's Dynamic
Ad not going well? Well then you can try rewording it as soon as you like and see if that improves matters at all. With traditional forms of advertising you have no choice but to wait for the next month or longer even, whereas with PPC you can change it immediately and do so every day if you wish.
You Get Feedback
PPC is fantastic for getting feedback and due to its' nature you will get a wealth of information on how many clicks you had and how many views among other things. Because you can tweak your ad and your budget on the fly this then means you can test out different business models and really see what works.
This post was written by Vadim Kirichenko from Wisdek.com. Vadim has been using Adwords and other PPC networks for many years now and believes that PPC is one of the best advertising methods.