When a visitor lands on your blog you want them to stay and read as much of your content as possible. The SimpleReach Slide plugin is designed to help visitors discover more of your content. The way it works is after the reader reaches the end of a post the plugin slides out and recommends to the reader another post they may be interested in. You can configure the plugin to show only posts from the same category or not.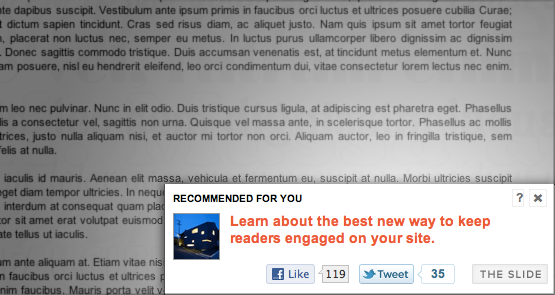 If you go directly to the SimpleReach website you'll see that it is in private beta and you need to apply. I'm not sure what that is all about so I just downloaded the plugin straight from the WordPress Plugin Directory. Once you install and activate the plugin you can register for an account in the plugin settings.
After registering, you can login from the SimpleReach website to get full analytics of the plugin's performance on your site.
Here are some of the current stats for this blog from the last 30 days.
Average Time on Site: 00:01:48
Bounce Rate: 67.62%
Pages/Visit: 1.72
I'll post an update next week to see if the SimpleReach Slide plugin has increased any of the visitor metrics for the site.
Don't forget to sign up below to get updates on all the case studies!